Everyone Is Gay! | Gender, Sexuality, and Women's Studies
Kristin Russo (born December 17, ) is an American speaker, personality, and LGBTQ In , Russo and Owens-Reid began My Kid Is Gay (formerly The Parents Project,) a first-of-its-kind digital resource for families and educators of. "Danielle Owens-Reid and Kristin Russo's question and answer book is the perfect guide for parents of gay and questioning children. They answer all the. This duo of gay gals are edutaining queer youth one Q&A at a time.
We each had… Kristin: We each had five people. I was number two, right? Yeah, you were second in line after Allison Russo. What role would you play in my wedding?
I never think about having people stand in a line. What would you like me to do at the party? I could spill something.
Kristin and Dannielle answer a tough question about Jenny Owen Youngs and Gregory & the Hawk
Create the playlist, I want it to be a mix of Miley Cyrus and Demi Lovato and one other musical guest. Okay so Demi Lovato, Miley Cyrus and surprise guest. What is the most annoying thing about me? That is a good one.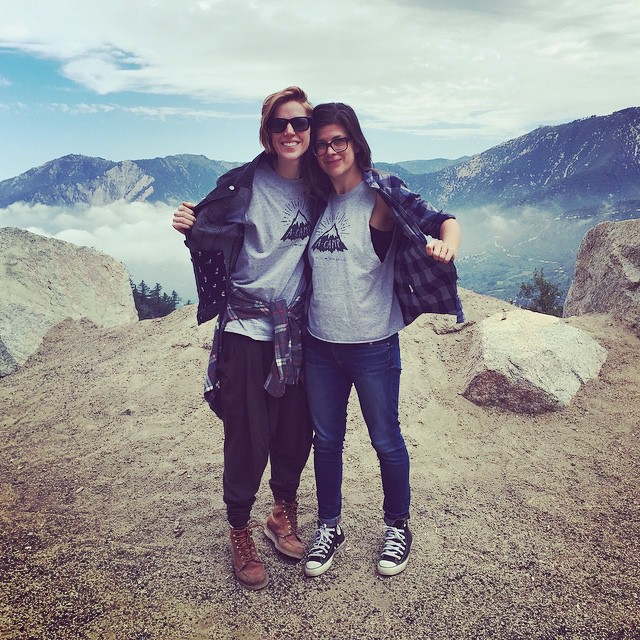 Yeah, right, can you think of one? Like a silly stupid thing that annoys me? Everything I can think of that someone else might consider annoying, I consider endearing. Could you get me my drumstick?
Could you grab me some water? I mean when you have a point, you have a point.
This is a Book for Parents of Gay Kids : Dannielle Owens-Reid :
What have you learned from our friendship? I know a couple of things I have learned from our friendship. Yeah, I feel like mine would be similar but the difference would be communicating around those things.
Do you think our friendship would be different if we were straight? Because Everyone Is Gay. You never would have started Lesbians who look like Justin Beiber. Then they know they were pieces of shit.
Everyone Is Gay!
You were so much younger and in a malleable place and I feel like her insecurities had a really lasting impact on you. That could go for a lot of my relationships. And made it hard for you to figure out the things that you like and the things that you want, and made it harder for you to connect with different people later because you were freaked out.
I think we did a really good job at coding our answers. What was our biggest fight about? The first big fight I feel was the biggest because neither of us had the tools to figure shit out. That was the biggest fight because that was the first time we had to navigate each other in a way that was for real.
What happened was that we were at a school and it was about a dance. Our biggest fight was a dance to a Black Eyed Peas song. You said we were going to do a good job, and I was like: It was way later.
I either had to hold the feeling in forever and say it a year later or say it the second it happens. That conversation was later, I think. Can I tell you the first thing that came to my mind? Was it like when, we were on tour, and you were in the bathroom, and we stopped somewhere… oh my god… Kristin: I knew when I started this story and you recognized it, that you thought I was gonna tell that one.
Interview With My Queer BFF: Dannielle Owens-Reid and Kristin Russo | Autostraddle
It was also a good moment. A lot of the questions that Danielle and Kristin received were about dealing with homosexuality, either as a gay person, a parent of a gay person, a friend of a gay person, or just somebody who knows some gay people. Kristin and Danielle attempt to answer these questions with their best advice and also through a lot of lip-syncing. They like to keep things light through use of humor and goofy Disney songs because the topics at hand range from using a scary movie as the perfect cuddle time to thoughts of committing suicide.
Clearly, people were beginning to follow what they were doing, so Everyone Is Gay decided to embark on a college campus tour throughout the country. Bri and I unfortunately missed the Ohio events, so we decided to travel to Virginia to make the very last scheduled tour date.
When we got there, we were both incredibly nervous to meet Kristin and Danielle since of course we wanted to impress them with our charming looks and conversation, but we were stumbling around on a campus that we knew nothing about and sweating… a lot. Who knew it was so hot in Virginia? When we saw them coming into the auditorium from across the hall, Bri got so excited that she literally sprinted to hold the door for them and left me to pay for her stupid overpriced latte at the campus Starbucks.
They began by introducing their organization, which required discussion of acronyms. Still, they provided useful information for people who might not know as much about the gay community. In a hand-out that they gave us, they provide these definitions for some acronyms: These websites are all fantastic and interesting resources, and I highly recommend checking them out.
The reason that we need these resources is because a ton of discrimination still exists in this world, especially against LGBTQ youth. Herein lies a huge problem: LGBT youth are missing out on an important part of their education simply because they feel unsafe. Could this lead to LGBTQ youth lacking in the skills necessary to get into as good of a school as the not-so-harassed straight youth?
Kristin and Danielle pointed out figures claiming that students who were most frequently harassed based on their sexual orientation or gender expression had almost half a grade lower GPA than students who were less-often harassed.
Finally, Danielle and Kristin talked to us all about how to help solve these problems through a few simple steps: